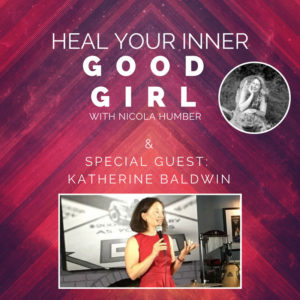 In this episode I'm speaking with the inspirational Katherine Baldwin. Katherine is a writer, speaker and intuitive dating and relationships coach.
She has been writing professionally for 20+ years, as a journalist and a blogger, and is now writing a memoir, exploring her journey from 40 to 45 as she transformed her life, her work and her relationships and went from being a single, work-obsessed adrenaline-junky to a women who's in love, living by the sea and doing work that's aligned with her authentic self.
Katherine now helps other women heal their relationships with themselves and others and change their patterns so they can live authentic, wholehearted lives and find healthy, loving relationships.
I first met Katherine ten years ago when we were both on a personal development holiday in Greece. It seems that we were both right at the beginning of a huge journey of self-discovery at the time. Since then we've both left comfortable, secure jobs to start our own businesses. During our conversation I loved talking with Katherine about her decision to make the leap from her high-profile role and her ongoing battle with perfectionism.
Find out more about Katherine and her work at: http://www.katherinebaldwin.com