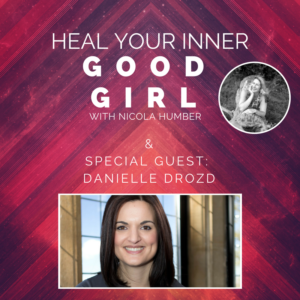 In this episode I'm speaking with Danielle Drozd.  Danielle is a writer, teacher, confidence coach and mentor.  After 14 years in the blue-chip, corporate world of supply chain, she decided to change her life in order to achieve authentic success.
Danielle shares her life-changing journey, in her debut book I Have a Dream, a teaching memoir which ignited a desire to share her knowledge and empower others to find meaning. Subsequently, Danielle went on to publish a poetry anthology Voice of the Soul and a book Confidence through Courage teaching the reader how to grow into confidence.
As a coach, Danielle works with people to get clarity on personal roadblocks, to define a route for building confidence, and acts as a cheerleader for taking action.  Danielle lives by the mantra 'Be the best version of you, ignite courage and take action!'
During our conversation Danielle shares:
How finding a female mentor helped her to challenge the good girl behaviours that had been holding her back in a male-dominated industry.
The power of doing one small thing that scares you every day in growing your confidence.
The void you can experience when you know deep down you're doing work that doesn't ignite your soul.
How listening to her intuition led to her writing not one, but three books!
And the transformation and creativity that can come out of the darkest of times.
Find out more about Danielle and her work at: http://www.danielledrozd.com