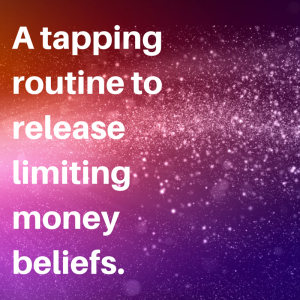 Do you ever find yourself really wanting to achieve something, but that pesky, doubting voice in the back of your mind keeps saying you can't do it?
Maybe you set yourself a juicy financial goal and then the nagging doubts set in, so you feel disheartened and lose belief that you can reach it?
When this happens, its a sign that limiting beliefs are kicking in.
Limiting beliefs are deeply ingrained thought patterns that prevent you from being, doing and having what you truly desire.  They're very often established in childhood and although they might keep you safe, they will also keep you small and stop you from living to your fullest potential.
Limiting beliefs squash your sense of possibility.
The good news is that you can do something to release these old, restrictive thought patterns and create a new, more resourceful belief system.
My go-to tool for shifting limiting beliefs is Tapping or EFT(Emotional Freedom Technique).  I use it all the time, both personally and with my clients.  It's simple to use and very effective.
Looking for the best video compression software to shrink your large files. Well, here are the Best Video Compression Software that you must start using in-order to reduce the size of all the videos you make. It will help you process videos faster.
In the video below I guide you through a short tapping routine designed to help you shift some of the most common limiting beliefs about money and wealth.  It doesn't matter if you've never used tapping before, just take a look at the video and tap along (you can't get it wrong!).

You can use this same process to tap away any other limiting beliefs that you may be experiencing right now.  Just use words that specifically describe what's coming up for you as you tap round the different points.
And, of course, feel free to comment below with any questions you have or shifts you experienced whilst tapping for yourself.
Your next step. Want to learn some super-powerful ways to create the income you truly desire (and deserve!)? Click here to join my free 7-Day Money Master Kickstarter Challenge and get going right away.